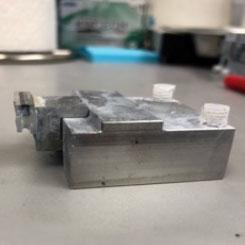 This is a follow-up to our Tip from the August newsletter. In that edition, we discussed how to mount a thin, flexible, delicate, and/or soft sample for increased mechanical stability in order to get the best performance during mechanical polishing or ion milling.
We showed a custom holder and process we use to sandwich thin or flexible samples for processing either by adding a microscope coverslip or piece of silicon for extra stability.
In this month's Tip n Trick, we will show some of the other tools used to create the "sandwiches" that add the necessary rigidity helping to protect the samples during processing.
Here is the custom fixture is shown in August that allows us to handle delicate samples:
Creating the Sandwich
Before we attach the sandwich to our fixture, or before we put the sandwich in epoxy or other mounts, we need to create the actual sandwich. For this, we use fixtures available from Ted Pella.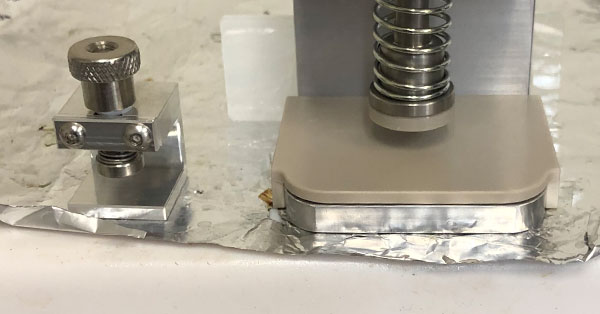 These fixtures create the pressure needed to hold our sandwich components together, allowing them to be put on a hot plate or in an oven to cure.
The smaller fixture handles samples up to 5mm in height. The larger holder handles samples up to 30mm in height.
The large clamp has "soft jaws" to prevent damage to samples. The jaws are made of PPEK plastic which can handle heat up to 200 Degrees Celsius. The springs exert pressure on the sample to keep it flat and help eliminate voids.
Choosing the Right Epoxy
Primarily, we use EpoxyBond 110 for our work. EpoxyBond 110 cures at 150°C.
If the sample is temperature-sensitive, we substitute Buehler's EpoxiCure 2 or EpoThin 2 epoxies.
Both of these epoxies will cure at room temperature but will cure faster with added heat. They have lower exotherm than the EpoxyBond.
You can substitute a cyanoacrylate adhesive if needed. Choice of epoxy/adhesive is up to you and the specific requirements associated with your delicate sample.
There are many methods to mount non-traditional samples beyond a standard mount or puck.
We hope that by showing you some additional methods we can help you improve your process and yields.
If you have questions or need assistance with your sample preparation process, please use the form on this page to contact us. Or, give us a call at (408) 436-6336.